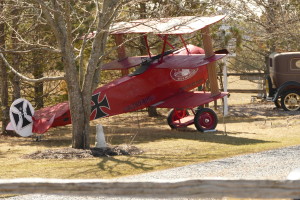 So, we're out booting around the back roads of Clarington County, having just left the lovely little hamlet of Tyrone, Ontario—hey, if a town is named after a county in Ireland, it must be good. We'd just visited Tyrone Mills at 2656 Concession # 7—built in 1846!!—which currently operates as a general store, woodshop and bake shop. Tucked in our car hatch were several gluten-free goodies including a shepherd's pie, bread, and oatmeal raisin cookies.
For our leisurely drive back to the city, we headed west along Regional Road 20 where we came to Middle Road; perhaps not a spectacular name for a road but it looked interesting nonetheless. We turned left and headed south passing Concession 8, enjoying the sunshine and scenery. Out of nowhere, a World War II Spitfire suddenly appeared along with a Messerschmitt. We came to a screeching halt. Wait. What?!
On the right side of the road sat a field of life-size old replica war planes and cars. Vintage aircraft included a Sopwith Camel, a Spitfire from WWII, a German Messerschmitt, and the Bloody Red Baron's plane from the Great War. Several old Model 'A' Fords were parked. There was even an old military tank. We gave our heads a shake. Where were we? Feeling as if we'd catapulted back to a time when the freedom of the world hung in the balance, we hopped out of the car to look around. Set back from the road stood a charming Tudor-style guest house called, "Model 'A' Acres Bed and Breakfast," its name displayed on a mailbox topped with—of course—a miniature "Avro Arrow."
According to the Bed and Breakfast's website, all the planes have been built from mostly salvaged material. Ian, the artisan behind the work, has paid attention to even the finest details as seen in 'men' sitting in the cockpits (wearing moustaches), fancy plane decals (several depicting "BNB"), and flags. The 1918 Fokker DR 1 especially interested me. During my research for "Bomb Girls," I had the honour and privilege of interviewing a gentleman whose father, Philip Hamilton took on the infamous Red Baron.  Notorious for ditching his German flying formation to pick off any Allied plane that dared cross the German lines to hunt him down, Von Richthofen engaged Phil in a vicious dogfight resulting in Phil's aircraft getting torn up in a hail of machine gun fire. Miraculously, he was able to coax the crippled plane across German lines into No-Man's Land close to the English defense where the plane hit land and ground looped, leaving the injured airman hanging upside-down in his cockpit. Phil survived his injuries, returned from the war, and went on to become Vice-President of General Engineering Company (Canada) Ltd.
This incredible story of one Canadian's courage and devotion to his country is just one of many to be found in the book, coming out in September.
Not wanting to trespass, we snapped some quick shots and continued on our way. But I think we'll put "Model 'A'" on our 'to visit again' list. What a great place for anyone's who's looking to enjoy vintage military aircraft, a cozy out-of-the-way bed and breakfast, or an awesome place to take the kids.
Learn more about "Model 'A' Bed and Breakfast".